Weird-winged Moths (various families)
In gardens we will see a couple of moths not looking like moths at all. This is usually due to the wings, which are either transparent or divided into small segments. Even though these moths families are not closely related, we'll deal with them on this page, as they are easily recognized as weird-wings. Only problem might be, recognizing these are moths rather than wasps or crane flies. The clearwings are quite well known imitators of dangerous wasps and have transparent wings. Plume moths have wings consisting os five or more parts each. Plume Moths are capable of putting the parts over one another, thus creating a very small wing. Even though Many-Plume Moths have the same wing construction, they are unable putting their parts on top of eachother. They show all parts constantly. On this page you will encounter three families: Clearwings, Many-plume Moths and Plume Moths.
Clicking on "more" in the caption will take you to a page containing much more information on the species and usually more photographs as well.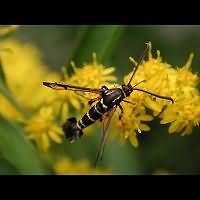 Yellow-legged Clearwing, male
(Synanthedon vespiformis)
The legs of this species are entirely yellow indeed. The male has a black tail.
More...
Family: Clearwings (Sesiidae)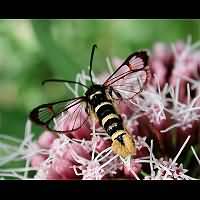 Yellow-legged Clearwing, female
(Synanthedon vespiformis)
The female of the Yellow-legged Clearwing has a yellow tail.
More...
Family: Clearwings (Sesiidae)