[All pictures of garden wildlife on this page are thumbnails. Click on any thumbnail for a large format to be displayed.]
Siskin (Carduelis spinus)

Click

here for the bird's sound.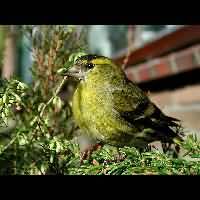 Because of its striking yellow colours and black cap the siskin is easy identifiable.
This is a finch that in winter suddenly appears in the garden and just as suddenly disappears again. Still there have only be a few years without them. They behave like all other finches, but can be easily recognized by the black cap. The animal is also known as Eurasian Siskin.
Lots of people are breeding various species of finches, including the Siskin.
This bird belongs to the family of Finches (Fringillidae). It is in our garden frequently and can be seen in Holland march - september. The bird is 5" and weighs 12 grams. It lives in woodlands and parks mostly. It eats seeds and insects. Compared to the male, the female is greyish green with a grey head. The bird builds a nest in pine trees only somewhere around may. Four , five or six eggs are laid, on which the birds breeds for some 13 days. After being fed the chicks leave the nest after some 14 days.
The Siskin is a striped bird, like so many other finches.

Name of this bird in various other languages
Dutch
German
French
Polish
Scientific
Sijs
Erlenzeisig
Tarin des aulnes
Czyzyk
Carduelis spinus