[All pictures of garden wildlife on this page are thumbnails. Click on any thumbnail for a large format to be displayed.]
Black-headed Gull (Larus ridibundus)

Click

here for the bird's sound.
Black-headed Gulls do not have their cap in winter (left and middle photo), but they do in summer (to the right).
The gulls make up a rather large family of seabirds. You can find them all over the seas and oceans of the world. There are only a few gulls that live all over the European continent and this is the most common one. Actually it's very dependent on human activity: hundreds of these birds wait at garbage dumps for the trucks to arrive. Many follow the farmers when they plough or manure their land. But they also go through meadows behaving rather like Rooks. The name in Dutch means Cook Gull, but they are also called Kapmeeuw, meaning Cap Gull. The cap is absent in winter.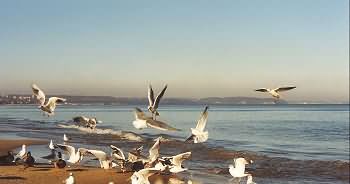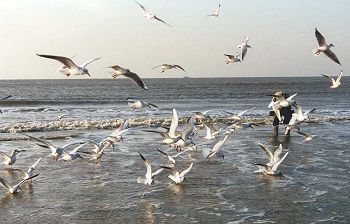 Even though you see quite a few of them inlands, most can be found along the coast. To the left the Baltic coast, to the right the Northsea coast.
With some birds, and especially with gulls, the young can be told apart from the adults for a very long time. The young of the Great Black-backed Gull forinstance differ from their parents for five years! With Black-headed Gulls the difference can only be seen during the first winter: the young still have brown feathers in their grey back and black tail and their feet and beaks are reddish brown, while the adults have feet and beaks that are vividly red. The difference is obvious in the picture below.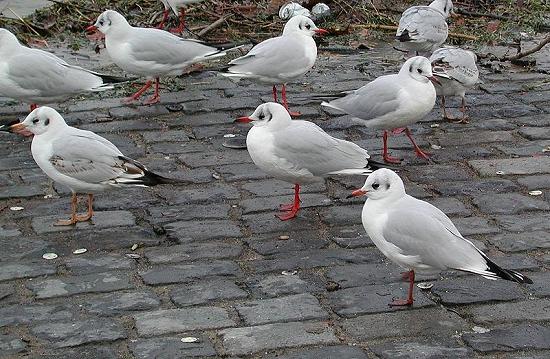 A group of Black-headed Gulls with to the far right and left the young ones. Picture taken near the Rhine River, Germany.

This bird belongs to the family of Gulls (Larinae). It has been a one time visitor to our garden and can be seen in Holland all year round. The bird is 15" and weighs 260 grams. It lives in coasts, waste dumps, meadows and lakes mostly. It eats anything. The sexes do not differ from one another. The nest is made in April or May in the ground. The birds produces three eggs at a time on which it breeds for 23 days. It takes the young a long time to grow up: they remain in the nest for some 40 days!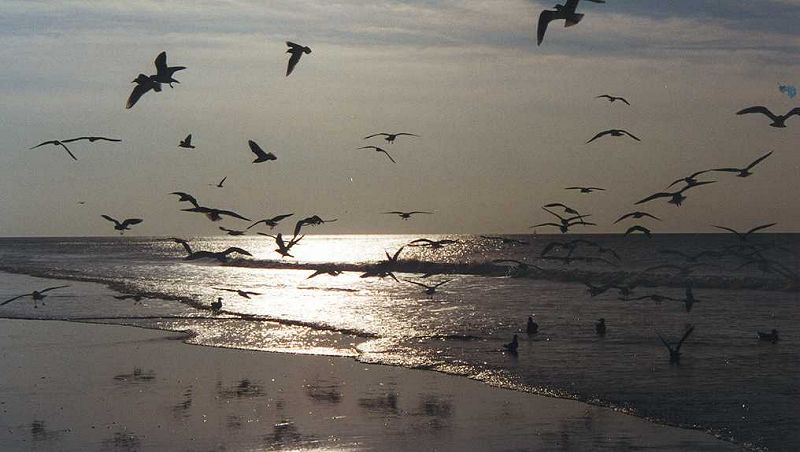 Gulls are elegant flyers and photographs of them along the coast during sunset are always picturesque.

Name of this bird in various other languages
Dutch
German
French
Polish
Scientific
Kokmeeuw
Lachmöwe
Mouette rieuse
Smieszka
Larus ridibundus