[All pictures of garden wildlife on this page are thumbnails. Click on any thumbnail for a large format to be displayed.]
Willow Warbler (Phylloscopus trochilus)

Click

here for the bird's sound.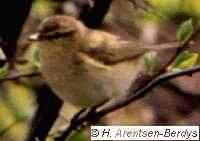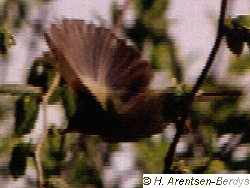 The Willow Warbler can be identified by the combination of a lighter and darker stripe near the eyes.
This shy little bird, member of the Warbler family of small summertime garden birds that all look the same, can be best seen when drinking water or taking a bath. It's colours are such, that you will not discover it in the bushes. From moving branches and leaves you can sometimes conclude that there is a bird in the bush somewhere, but you'll probably never see it. Sometimes it is visible singing on the end of a branch or on the top of a tree, but often you're too far away to see much. The Willow Warbler looks exactly like a Chiffchaff, but is by far the better singer. All warblers feed on little insects, spiders and the like, although some do eat fruit in autumn.
This bird belongs to the family of Warblers (Parulinae). It is a frequent visitor to our garden and can be seen in Holland april - october. The bird is 4" and weighs 9 grams. It lives in new woodlands, parks en gardens mostly. It eats insects and spiders. The sexes do not differ from one another. The bird makes a nest on the ground in may or june. It deposits some four to seven eggs, which hatch after some 13 days. The young leave the nest after another 13 days.

Name of this bird in various other languages
Dutch
German
French
Polish
Scientific
Fitis
Fitis
Pouillot fitis
Piecuszek
Phylloscopus trochilus