Great Spotted Woodpecker

93 secs / 273 kb / MP3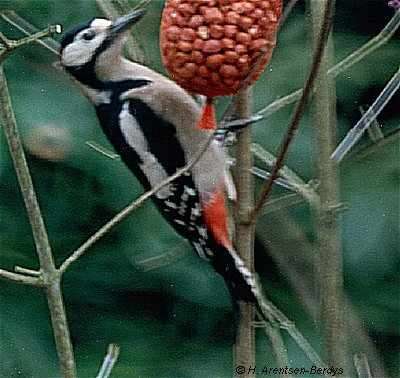 Despite its name, the Great Spotted Woodpecker isn't that big at all!
There are a few species of Woodpeckers in Holland and this is the most common one. It can be seen all around the country, provided there are trees. It's a colourful bird that looks bigger than it actually is. You don't see it very often, but in winter it visits my garden regularly. During these visits it behaves like the Great Tit and Blue Tit: it is very fond of the peanut nets and will fanatically try to get the nuts out. Because it has a very powerful beak, this presents little to no problem.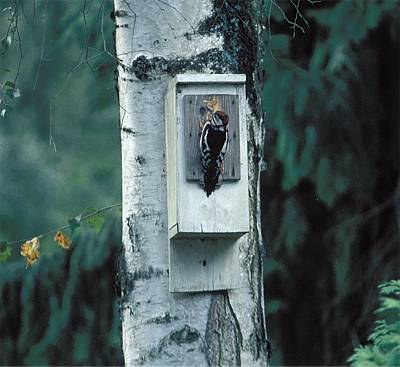 Great Spotted Woodpeckers like to make holes bigger, what holes doesn't matter...

The next message, sent to us by our correspondent in Alaska, deals with a Great Spotted Woodpecker that landed all the way in the Northern USofA.
March 5th 2002: Safari notes from a birder name Patti living in Eagle River, Alaska:
"Well I got to see the bird--the Great Spotted Woodpecker. He was beautiful! He showed up 5 minutes after we arrived and stayed only for a few minutes. We waited for 2 hours, but he never returned. We weren't disappointed though. The house we went to is on a wooded lot and there was plenty of activity the whole time we were there. The owner was gracious enough to let us sit inside the whole time. There was an ornithologist there taking notes and pictures. We looked at her guest book and discovered people had come from all over the country to see this woodpecker. There was a pair of the birds, but the female hasn't been seen in a few weeks. This woman isn't a bird watcher except for the birds in her yard. When she first saw this bird she thought he was bleeding because the red on his lower belly and undertail coverts are so red. When she realized he wasn't and there was no bird in her bird book that fit its description she called someone to find out what it was. But she didn't tell anyone else until October, and the birds had been there since last July. Anyway, you can imagine her whole life has changed. People are there everyday. She's been in the newspaper and she gets phone calls all day long from everywhere."
March 15th 2002: How it began by Patti herself:
"I live in the small town of Eagle River, Alaska, just a short drive north of Anchorage. However, I have only lived in Alaska for 18 months. This Great Spotted Woodpecker was listed on our state's rare bird hotline. A friend heard the phone recording and asked if I would be interested in going to see it. I have been birding for 7 years, and I find every new bird a wonderful experience. But to see this woodpeckerso far from home was very special. And though these may be common elsewhere in the world, I would never grow tired of watching them. It's amazing how extraordinary a black and white bird can be with just a splash of colour. We had to drive less than 2 hours north of my home to be able to enjoy this little visitor."
Patti Brent, Eagle River, Alaska, USA

This bird belongs to the family of Woodpeckers (Picidae). It is very common in our garden and can be seen in Holland all year round. The bird is 9" and weighs 80 grams. It lives in woodlands, parks and gardens mostly. It eats insects and tree juices. Compared to the male, the female has no red on her head. Like most woodpeckers the Great Spotted Woodpecker makes or enlarges a hole in a tree. Around the end of May they make a nest there in which five to seven eggs are deposited. The breeding time itself is ecxtremely short: after only twelve days the eggs hatch. The young remain in the nest for nearly three weeks.

Name of this bird in various other languages
Dutch
German
French
Polish
Scientific
Grote bonte specht
Buntspecht
Pic épeiche
Dzieciol duzy
Dendrocopos major

Sounds © CLM & Vogelbescherming Nederland, used here by kind permission.