Short-toed Tree Creeper

1 sec / 6 kb
In our garden there are two birds that are completely dependent on trees. The one depicted here and the Nuthatch. Treecreepers live on their own, although they seem to flock sometimes in winter. In my garden I have never seen more than two at the same time. They climb up trees, putting their beak in every opening they see in order to get to the woodworms and other insects just under the bark. Treecreepers can only climb upwards and are therefore limited in their abilities compared to the Nuthatch. That bird can as quickly move downwards as upwards.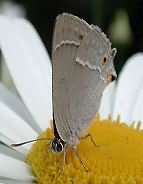 The caterpillar of the Purple Hairstreak damages oaks, but luckily is highly appreciated by the Short-toed Tree Creeper.
The Treecreeper is not a bird that will come to your feeding table, nor will it look for crumbs and it seems to be rather dirty little devil, for I've never seen one bathing. The only times I see the bird is when it climbes up the white bark of a rather young, so still quite white, birch tree. But when you pay attention you will very regularly see that happening. The bird has a striking habit: when it is finished with one tree, it flies to the next one and starts at the bottom of the stem. This is caused by the fact that the Tree Creepers can not climb downwards easily (something the Nuthatch does without even thinking about it), so it can only move upwards.

This bird belongs to the family of Creepers (Certhiidae). It is seen in our garden frequently , but probably it is a very common bird in our garden, but often goes unnoticed. It can be seen in Holland all year round. The bird is 5" and weighs 9 grams. It lives in woodlands, parks and gardens mostly. It eats insects. The sexes do not differ from one another. The breeding season is from april until july. The birds nests in trees, where five to seven eggs are deposited, which are bred for two weeks. The young leave the nest rather quickly: after some 15 or 16 days!

Name of this bird in various other languages
Dutch
German
French
Polish
Scientific
Boomkruiper
Gartenbaumlaufer
Grimpereau des jardins
Pelzacz ogrodowy
Certhia brachydactyla

Sounds © CLM & Vogelbescherming Nederland, used here by kind permission.